Planning to Start a B&B - or let rooms in your home to paying guests?



&nbsp &nbsp &nbsp &nbsp


&nbsp &nbsp &nbsp &nbsp "Running a bed-and-breakfast is one of the most straightforward small business models,
&nbsp &nbsp &nbsp &nbsp and can provide a rewarding and flexible lifestyle for naturally hospitable people.

&nbsp &nbsp &nbsp &nbsp "The Bed & Breakfast Association provides information and support to B&B owners,
&nbsp &nbsp &nbsp &nbsp and it is also a good resource for would-be owners at the research stage."
&nbsp &nbsp &nbsp &nbsp

Mark Bridge, The Times 'Money' Section, 22 October 2011 (p70-71)







We recognise that if you are planning to buy a B&B or start a B&B business, you will welcome sources of information and support at least as much as, if not more than, those who are already well established.

That is why membership of the Association is open to those at the planning stage.

To read more about the Association, click here.

To find out more about why you should join, click here.

For B&Bs for sale, click here.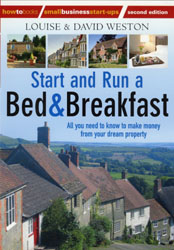 How to Start and Run a Bed and Breakfast
&nbsp &nbsp "If you're thinking of buying a B&B or you've just started in one..buy it.
&nbsp &nbsp Solid advice, well written, good, up to date info especially on marketing"
&nbsp &nbsp &nbsp &nbsp &nbsp &nbsp &nbsp &nbsp The Times Online, Book Review

This book is written by Bed & Breakfast Association Chief Executive David Weston and his wife Louise, and is based on their own experiences starting and running their 4-star B&B in Dorset, and on David's 20 years' experience in travel and tourism. The book was published by How To Books in 2006, with the second edition published in 2010.

For details and to buy at £9.99 (Kindle Edition) or £12.99 (Paperback), go to this page on Amazon.



The eBook version is FREE when you join the B&B Association






9th October 2016

Thinking of putting your home on Airbnb? Here's the information you need to know:
Get specialist insurance, as short-letting invalidates your buildings cover - leaving you with nothing but a mortgage to pay if the house burns down
Ask your lender's consent. Not doing so is mortgage fraud and banks increasingly call in loans for unauthorised letting
If it's a leasehold flat, check your building's lease and ask consent from the freeholder
Tell the neighbours upfront and listen to their concerns about strangers bumping suitcases up the stairs at 1am
As with a normal let, you need an annual gas safety certificate, safe electrics, smoke and carbon monoxide detectors and fire safety measures. You also need an energy performance certificate if letting for more than four months
In London you must have planning permission to short-let for more than 90 days a year
You can earn £7,500 a year tax-free under the [HMRC] rent a room scheme, but that applies only if you let out part of the house - not the whole place. [The same HMRC scheme is available to small B&Bs]


The Bed & Breakfast Association is here to help you with all the above - eg getting specialist insurance, how to comply with the regulations on fire safety etc., and your options on tax and accounting - as well as guidance on running an accommodation business, discounts and offers, and many other member benefits.