About the Bed and Breakfast Association



The Bed & Breakfast Association is the UK trade association for B&Bs and Guest Houses. It was judged best trade association in the UK for representing its members in the Trade Association Forum "Best Practice Awards" 2010 (read more...).

In November 2015 the Association's Chief Executive, David Weston, was invited by the Minister of Tourism, Tracey Crouch MP, to sit on the Tourism Council, a group of 20 or so tourism industry leaders, chaired by the Tourism Minister, who meet to advise the Government on tourism industry issues and act as a link between the UK tourism and hospitality sector and the UK Government, via its new inter-departmental Ministerial Group on Tourism.


&nbsp &nbsp &nbsp &nbsp &nbsp &nbsp &nbsp &nbsp "I would like to thank you for a simply excellent service the B&B Association runs.
&nbsp &nbsp &nbsp &nbsp &nbsp &nbsp &nbsp &nbsp I always enjoy the articles and helpful literature put out in the magazine and website,
&nbsp &nbsp &nbsp &nbsp &nbsp &nbsp &nbsp &nbsp and the always cheerful, positive and common-sense approach you take to serious matters
&nbsp &nbsp &nbsp &nbsp &nbsp &nbsp &nbsp &nbsp like fire regulations. I hope you are able to continue for years to come!"
&nbsp &nbsp &nbsp &nbsp &nbsp &nbsp &nbsp &nbsp A R, Cambridgeshire

[member since 2008]




&nbsp &nbsp &nbsp &nbsp &nbsp &nbsp &nbsp &nbsp "I do appreciate all you're doing for the B&B industry."
&nbsp &nbsp &nbsp &nbsp &nbsp &nbsp &nbsp &nbsp Mrs R, Scotland

[member since 2009]




See our Frequently-Asked Questions page.


There are many thousands of "Bed and Breakfasts" and guest houses in the UK, mainly small-scale, owner-managed businesses based in the proprietors' own homes. These are very important to the UK's tourism industry and to the visitor experience we offer to both British tourists and to visitors from abroad.

Until recently, these small independent B&Bs have not had a trade association to represent only themselves, without being dominated by the often differing agenda of the hotel industry, in which the strongest voice is that of the international hotel brands. The needs and interests of these huge corporations are often not the same - and may even occasionally be the opposite - of the needs and interests of the small, family-run B&B.

Louise and David Weston, owners of a small, high-quality B&B in Sherborne, Dorset, felt that there was no collective body to represent their interests, especially in the face of commercial threats such as the "Bed Tax" proposed by the Lyons Inquiry (since successfully fought off - so far) and by the 2006 fire precautions regulations, so they decided to start one. The Bed and Breakfast Association was established.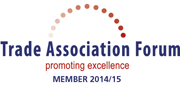 The Bed and Breakfast Association is a member of the Trade Association Forum, the collective organisation for British trade associations established by the CBI and the Government (DTI, now BIS - the Department for Business, Innovation & Skills, which "works with the Trade Association Forum to develop and communicate best practice among trade associations").





The Bed and Breakfast Association is a member organisation of the Tourism Alliance, along with the trade associations for each other sector of the domestic tourism industry (self-catering, hotels & restaurants, holiday parks, attractions, etc. etc.), and this grouping allows the industry to speak with a united voice on issues of common concern, without compromising the dedicated focus of each trade association on the needs of its own sector.


The Bed and Breakfast Association is a voluntary trade association with the following objectives:

1) To represent the interests of members, and to campaign on behalf of those interests (for example, to Government and regulatory bodies);

2) To provide information and support services to members, to enable them to improve and develop their businesses;

3) To facilitate and enable the continuous professional development of the independent bed and breakfast sector in the UK, and promote best practice;

4) To promote to the public the advantages of staying in independent "bed and breakfast" accommodation.

The Bed and Breakfast Association defines "bed and breakfasts" as independent, owner-managed establishments not recognized as hotels, and offering overnight accommodation and breakfast on a "per night" basis to paying guests. Our membership includes both B&Bs and Guest Houses.





Online Communications



From the beginning, the Association has been determined to make all its information services online, and all its member communications by email. This is for two main reasons: (a) to keep the Associaton's costs (and hence membership subscriptions) as low as possible, and (b) to make best use of the new technology. This also allows us to avoid postal delays, and eliminates the unnecessary production of yet more printed paper.





Legal status



Bed and Breakfast Association Ltd. is a not-for-profit company limited by guarantee, registered in England (company registration number 6809150). It has no shareholders, and its objective is to provide services for subscribing members.
Members subscribing to the Association have no legal liability as they pay for annual services rather than a share in the ownership/liability of Bed and Breakfast Association Ltd. The Director of Bed and Breakfast Association Ltd. is David Weston, a Fellow of the Tourism Society and co-author of "How to Start and Run a B&B" published by How To Books.



Subscribe now from only £55 a year.